Dan Nelken is a photographer, visual artist, educator, lecturer, and documentary storyteller whose portrait-based photographic projects provide a window into the world of communities and people outside the cultural mainstream.
Born in Palestine his family immigrated first to Canada and then to the United States, finally settling in Chicago. By the time he was 11 years old, Nelken had lived in four countries with three different languages where spoken. As a result, he developed an innate understanding of being "the other," struggling to adapt to new circumstances. He received his BFA degree from Pratt Institute in Brooklyn, NY.
A veteran studio-based advertising and editorial photographer, Nelken has received numerous domestic and international awards. His work has been exhibited and published widely and is included in museums, The Museum of Fine Arts, Houston, Houston, The Portland Art Museum, Beth Hatefutsoth Museum, Jerusalem, Haverford College Fine Art Photography Collection and International Center of Photography, including Vontobel Art Collection, Zurich, CH and the MAST Foundation, Bologna, IT
He has taught and lectured photography at Manhattan Borough Community College (BMCC), College of Staten Island (CSI), Fashion Institute of Technology (FIT) and Indiana University Bloomington.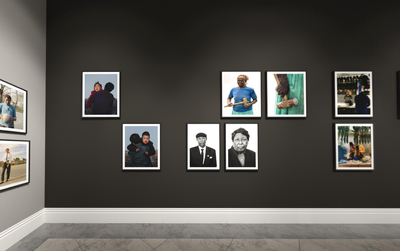 Selected Honors & Awards
2020 Taylor Wessing Portrait Prize: London Portrait Gallery: "Olga" & "Olga's Hammer."
Julia Margaret Cameron Award, The Worldwide Photography Gala Awards, an international juried competition: First Place Award, Series The Feminine Universe [men only competition]: HeadStrong: The Women of Rural Uganda, Barcelona, ES
URBAN2020 Photo Awards + Exhibition, an international juried competition: Shortlisted, Projects & Portfolios category
BarTur Photo Award, an international juried competition: Shortlisted, Professional Category, Unity in Diversity theme
Photolucida/Critical Mass, an international juried competition: Top 50 Finalist, HeadStrong: The Women of Rural Uganda, Portland, OR, US
Africa Photo Awards, an international juried competition: Shortlisted, Portraiture
2019 Kuala Lumpur International Photoawards 2019, an international juried competition: First Place Award, Series, Theme Category, The Unyielding Gaze: HeadStrong: The Women of Rural Uganda, Kuala Lumpur, MY
Tokyo International Foto Awards, an international juried competition: Bronze Prize: People/Portraits: HeadStrong: The Women of Rural Uganda, Tokyo, JP
13 Pollux Awards, The Worldwide Photography Gala Awards, an international juried competition: First Prize Award, Professional Section, People Category, Series: HeadStrong: The Women of Rural Uganda
2019 Neutral Density Award, an international juried competition: Honorable Mention, People Category, Series: HeadStrong: The Women of Rural Uganda
Photo Review Best of Show 2019: Winner, Philadelphia, PA, US
Athens Photo Festival 2019, Shortlisted, Portrait Series: "HeadStrong: The Women of Rural Uganda
2018 Photo Review, Best of Show 2018, a juried exhibition: Third Prize Award, Philadelphia, PA, US
2008 Singapore International Photo Festival, an international juried exhibition: Winner, Singapore SG
2006 Photolucida/Critical Mass, an international juried exhibition: Shortlisted, Portrait Till the Cows Come Home: County Fair Portraits, Portland OR, US
Aperture Foundation, Portfolio Picks, Honorable Mention: Till the Cows Come Home: County Fair Portraits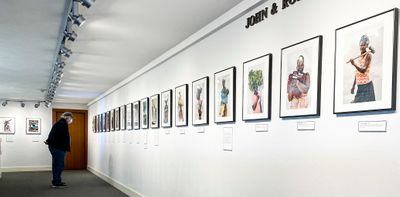 Selected Solo Exhibitions
2022 HeadStrong: The Women of Rural Uganda, Blue Sky Gallery, Portland, OR
2021 HeadStrong: The Women of Rural Uganda, Emerald Art Center, Springfield, OR
2010 Till the Cows Come Home: County Fair Portraits, Robert Morat Galerie, Hamburg DE
2008 Till the Cows Come Home: County Fair Portraits, The Heeren Shops, Singapore International Photo Festival, Singapore, SG (catalog)
2005 Till the Cows Come Home: County Fair Portraits, The Blue Sky Gallery, Portland, OR, US (catalog)
Till the Cows Come Home: County Fair Portraits, 7. Internationale Fotoage Mannheim/Ludwigshaten- Contemporary American Photography, Mannheim DE, Lichtblick, Cologne, DE) (catalog)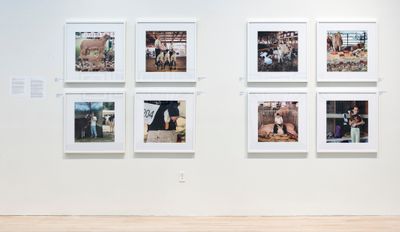 Selected Group Exhibitions
2021 Taylor Wessing Portrait Prize: London Portrait Gallery: "Olga" & "Olga's Hammer." two photographs, National Portrait Gallery, London: London, UK
The Feminine Universe, 15th Julia Margaret Cameron Award, an international juried competition, FotoNostrum Gallery, Barcelona, ES, (Juror: Elizabeth Avedon, Curator) juried exhibition,
Fauna-Wild Beasts, Sheep & Crocodiles #2, Galerie Lichtblick, Cologne, Germany
2020 oo's & iii's, FotoFestival, International Festival of Photography in Lodz, Lodz, PL
2019 Portraits, SE Center for Photography, Greenville, SC, US
Photo Review Best of Show 2019, The University of The Arts Gallery Philadelphia, PA, US,
Unyielding Gaze, an international juried exhibition, Kuala Lumpur International Photoawards, Ilham Gallery, Kuala Lumpur, MY
NYUrban Dance, LiCA/The Plaxall Gallery, Long Island City, NY, US
2018 Photo Review Best of Show 2018, The University of The Arts Gallery, Philadelphia, PA, US
Taylor Wessing Photographic Prize 2018, an international juried exhibition, National Portrait Gallery, London: UK (catalog)
FestFotoBrazil, Sao Paulo, BR
2017 I Choose Film: Film Photography in the 21st Century, Southern Vermont Arts Center, Wells, VT, US
2014 In Focus, Flinn Gallery, Greenwich, CT, US
2010 16th Juried Exhibition, Griffin Museum of Photography, Winchester, MA, US
2009 Galerie Artists, AIPAD, Robert Morat Galerie [Hamburg, DE], New York City, NY,
XIII Bienal de Fotografia 2008, Centro de la Imagen, Consejo Nacional para la Cultura y las Artes Mexico City, MX
2008 Photography: Recent Acquisitions, The Portland Art Museum, Portland, OR, US
Discoveries of the Meeting Place, The Twelfth International Biennial Festival of Photography, Houston, TX, US (catalog)
2007 Photography Now: An International Survey, Wright State University Art Galleries, Dayton, OH
2006 Relationships: A Ten Year Bond – Works from the CPW's Permanent Print Collection, The Center of Photography at Woodstock, Woodstock, NY, US
2005 Fotoage Mannheim/Ludwigshafen, Galerie Lichtblick, Cologne, DE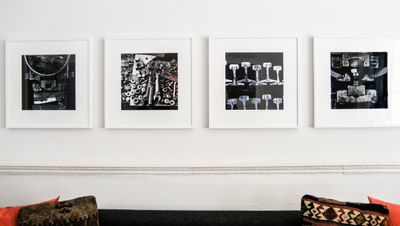 Selected Collections
Beth Hatefutsoth Museum, Jerusalem, IL
Haverford College Fine Art Photography Collection, Haverford, PA, US
International Center of Photography, New York City, NY, US
MAST Foundation, Bologna, IT
The Center for Photography at Woodstock, Woodstock, NY, US
The Museum of Fine Arts, Houston, Houston, TX, US
The Portland Art Museum, Portland, OR, US
Vontobel Art Collection, Zurich, CH
W. M. Hunt Collection Dancing Bear, New York City, NY, US
Private collections
Publications By the Photographer
2011 "Smash 'em Crash 'em," self-published book
2008 "Till the Cows Come Home: County Fair Portraits," (Kehrer Verlag Heidelberg 2008)
Selected Publications: Books & Catalogs
2022 Blue Sky Gallery Catalog "HeadStrong: The Women of Rural Uganda" 116 pages
2019 Kuala Lumpur International Photoawards 2019 Catalog [MY], September, 16-17
2018 Taylor Wessing Photographic Portrait Prize 2018 Catalog [UK], October, 67
2008 The Twelfth International Biennial Festival of Photography Catalog, [Texas, US], October
Singapore International Photo Festival Catalog, [Singapore, SG], October
2007 Photography Now: An International Survey, [Ohio, US], CD-ROM [catalog]
2005 Blue Sky 05/06, Catalog [Oregon, US]
7. Internationale Fotoage Mannheim/Ludwigshaten-Contemporary American Photography Catalog, [Mannheim/Ludwigshafen DE]
Education
1969 BFA, Pratt Institute
Professional Experience
2014 - Present Dan Nelken Photography LLC, New York, NY, US
1976 - 2014 Dan Nelken Studio Inc., New York, NY, US
2021 Guest Lecturer, Indiana University, Bloomington IN, US
2020 Guest Lecturer, CUNY, College of Staten Island (CSI), Staten Island, NY, US
2014 - 2018 Adjunct Professor, CUNY, Borough of Manhattan Community College (BMCC), New York, NY, US
2013 Guest Lecturer, CUNY, College of Staten Island (CSI), Staten Island, NY, US
2012 - 2013 Adjunct Professor, CUNY, College of Staten Island (CSI), Staten Island, NY, US
Advertising & Design Firms
Addison
BBDO Worldwide/Singapore
Bernhard Fudyma Design
Carbone Smolan
Carpenter Group
Desantis Breindel
Landor Associates
Lascalla & Co.
Leo Burnett/Chicago
McCann Worldwide
Saatchi & Saatchi
Siegel + Gale Inc.
Two Twelve
Wunderman/Thompson
Corporate
American Express
Citigroup
Deloitte
DTCC
J.P. Morgan Chase
IBM
KKR & Co. Inc.
NBC Universal
Och-Ziff Capital Management
Pfizer Inc.
Planned Parenthood
Proctor & Gamble
Target Corporation
TIAA
Publications
American Banker
American Lawyer
British Journal of Photography
Bond Buyer
Dwell
Good Housekeeping
Leica World
National Lampoon
The New York Times
O. The Oprah Magazine
Photo International
Foto Magazine [DE]
Popular Photography
Scholastic Magazines, Inc.
Smithsonian Magazine
Wall Street Journal